USNS Assertive
T-AGOS 9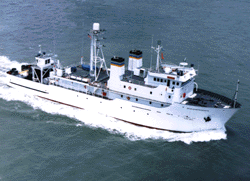 Builder: Tacoma Boatbuilding, Tacoma, Wash.
Power Plant: Diesel-electric; 4 Caterpillar D 398 diesel generators, 3,200 hp, 2 motors, 1,600 hp;
2 shafts; bow thruster; 550 hp
Length: 224 feet (68 meters)
Beam: 43 feet (13 meters)
Displacement: 2,262 tons (2,298.3 metric tons) full load
Speed: 11 kts (12.65 mph), 3 kts when towing array
Ships: No homeports assigned
USNS Prevail (T-AGOS 8)
USNS Assertive (T-AGOS 9)
USNS Bold (T-AGOS 12)
Crew: 18 mariners, 5 technicians and up to 15 Navy personnel
Description: Ocean surveillance ships have a single
mission to gather underwater acoustical data. The
T-AGOS ships operate to support the anti-submarine
warfare mission of the Commanders in chief of the
Atlantic and Pacific Fleets.
Features: The ship is designed to tow an array of
underwater listening devices to collect acoustical data.
The ship also carries electronic equipment to process and
transmit that data via satellite to shore stations for
evaluation. The ship, the listening devices and electronic equipment are all part of a system called the
Surveillance Towed Array System, or SURTASS.